Palo Alto Networks to Buy Data Defense Startup Dig Security
Dig Purchase Will Give Customers Visibility, Control Around Multi-Cloud Data Estate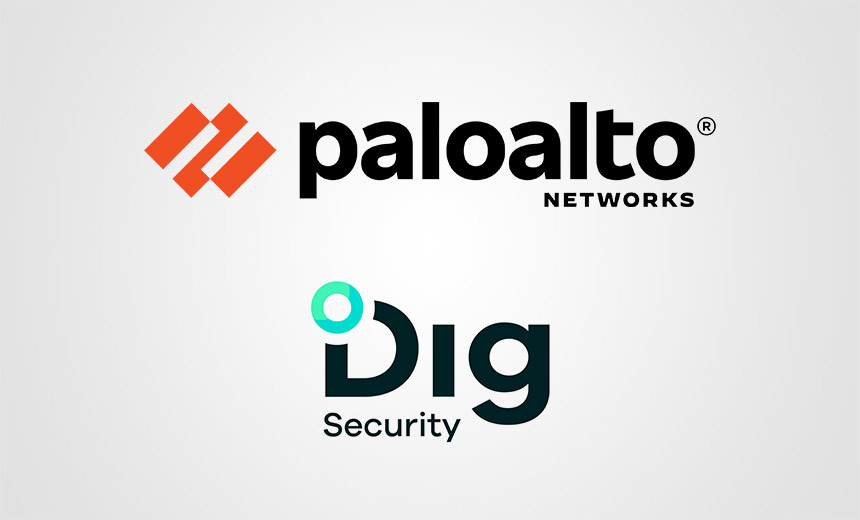 Palo Alto Networks plans to purchase a data security posture management startup led by a Microsoft and Google veteran and backed by Samsung.
See Also: AWS Security Foundations: For Dummies
The Silicon Valley-based platform security behemoth said its proposed acquisition of Tel Aviv, Israel-based Dig Security will give Palo Alto Networks customers visibility into and control of their multi-cloud data estate. Dig's DSPM offering enables companies to discover, classify, monitor and protect sensitive data across all cloud data stores. It will be integrated into Palo Alto Networks' Prisma Cloud platform.
"As companies build AI-enabled applications, there will be a substantial increase in the amount of data transferred to the cloud," Palo Alto Networks Chief Product Officer Lee Klarich said in a statement. "Dig's highly innovative DSPM technology helps safely enable this shift, and its dedicated team will complement and help advance Palo Alto Networks' strength across cloud security."
Terms of the acquisition weren't disclosed, though TechCrunch and Calcalist reported in September that Palo Alto Networks was expected to pay between $300 million and $400 million for Dig Security. Palo Alto Networks' stock was up $3.13 - or 1.31% - to $241.68 per share in trading midday Tuesday, and the company didn't respond to an Information Security Media Group request for additional comment (see: Why Palo Alto Is Eyeing Data Defense Firm Dig at $300M-$400M).
What Dig Security Brings to the Table
Dig Security was founded in September 2021, raised $45 million in three rounds of outside funding with backers such as Samsung, and grew its headcount by 140% over the past year to 87 workers, according to IT-Harvest. Dig co-founder and CEO Dan Benjamin lives in Israel. He previously led strategy, innovation and M&A for Microsoft Azure Cloud Security and was a CTO in residence at Google Cloud for Startups.
"Modern cloud applications leverage a broad set of data stores to meet the complex needs of businesses," Benjamin said in a statement. "Integrating Dig's technology with Prisma Cloud will enable customers to effectively manage the security of their diverse data stores in modern cloud applications and reduce the risk of data breaches."
The increased interest and adoption of generative AI has resulted in sensitive data being even more spread out across cloud services, distributed databases, vector databases and PaaS services, Palo Alto Networks said. As a result, organizations need help identifying sensitive data, effectively managing user access and implementing robust security measures to protect against internal and external threats.
Dig Security will extend Palo Alto Networks' visibility to cloud data stores and generative AI models, allowing security teams to have a comprehensive operational view of applications, data and cloud infrastructure in one place, Ankur Shah, Palo Alto Networks' senior vice president of products, Prisma Cloud, wrote in a blog post. Shah said Dig will also enable security teams to detect and respond to data exfiltration rapidly.
"While the cloud continues to promise a brighter, more scalable and connected future, it also demands a renewed focus on security," Shah wrote in the blog post. "After all, in this age of digitization, data is not just an asset; it's the lifeblood of an organization."
More M&A in Palo Alto's Future?
Dig could be the first of two acquisitions for Palo Alto Networks. Calcalist reported in September that Palo Alto Networks was in advanced talks to buy red-hot enterprise browser startup Talon Cyber Security for $600 million. TechCrunch reported Tuesday that the Talon acquisition is being completed and is still expected to be in the ballpark of $600 million (see: Why Palo Alto Is Eyeing Secure Browser Firm Talon for $600M).
Palo Alto Networks had a 22-month dry spell in terms of major acquisitions, lasting from the company's $156 million acquisition of cloud security startup Bridgecrew in February 2021 until the December 2022 purchase of application security firm Cider Security for $198.3 million. That's a far cry from early 2018 to early 2021, when Palo Alto spent $3.46 billion on 12 deals during Nikesh Arora's first few years as CEO (see: Palo Alto Networks to Buy Startup Cider Security for $250M).
During that period, Palo Alto bought everything from attack surface management vendor Expanse to SOAR firm Demisto and SD-WAN player CloudGenix. Arora told investors in August 2021 and reiterated in August 2022 that Palo Alto Networks doesn't plan to pursue any major acquisitions since the company already has a product in virtually every category where it wishes to play.
"The public market has rationalized; the private markets probably haven't yet," Arora told investors in August 2022. "It's a bit like real estate, and people remember what the neighbor's house sold and kind of forget what their house is worth. So, until people realize the true value of their house, it's going to be a while longer before acquisitions come into the security market again."